Wanhua Chemical was invited to attend the 37th World Petrochemical Conference on March 25. Mr. Ye Ming, Vice General Manager of Wanhua's Polyurethane Business Unit, presented Wanhua Chemical's carbon neutral measures and vision.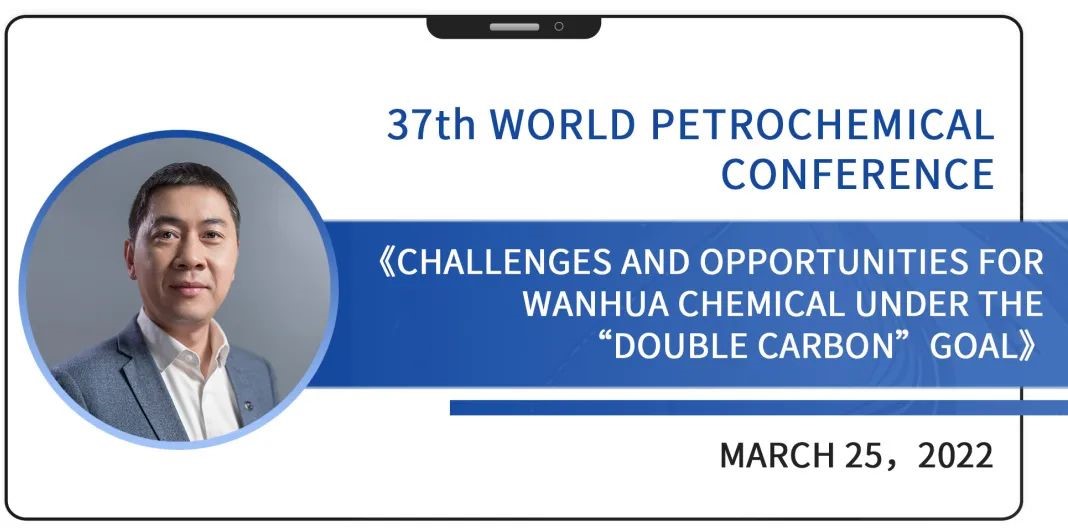 Since China's double carbon goal was announced, all aspects of economy and social life have been significantly affected. In the future, the energy saving and carbon reduction will play an important role in the development of enterprises. We are determined to contribute to the double carbon goal by implementing low-carbon operation and developing eco-friendly material solutions for industries.
In his speech, Mr. Ye introduced that Wanhua Chemical is strengthening technological innovation and optimizing energy structure, in order to realize the sustainable goal of a "zero carbon industrial park". For instance, heat waste recycling technology enables what was previously thought of as waste to be reclaimed, and applied in production facilities and city heating. In another case, hydrogen chloride recycling technology, featuring a world-first non-precious metal catalyst and fluidized bed process, allows the chlorine to be circulated in the production of isocyanates. Meanwhile, Wanhua Chemical is actively exploring alternative energy sources by jointly constructing green electricity projects. Through these and other measures, Wanhua Chemical is heading right toward the "zero carbon industrial park" goal.
Furthermore, Wanhua Chemical is constantly upgrading low-carbon material solutions for industries. Taking polyurethane chemical recycling as an example, the recycled foam from refrigeration after treatment is processed to produce recycled polyols that can be reused for the refrigeration application again. In the case of bio-based materials, alongside already-developed polyester, polyether, degradable plastics, water-based resins and TPU, Wanhua Chemical keeps exploring more kinds of bio-based materials to help partners achieve carbon neutrality. In terms of building insulation, automotive lightweight, new energy industries and so on, Wanhua Chemical has launched a series of innovative solutions to promote the upgrading of them.
Adhering to our mission of "Advancing Chemistry, Transforming Lives", Wanhua Chemical looks forward to being the driving force behind a more sustainable future.