Wanhua Chemical Presents its Sustainable Flagship Products at Chinaplas
On April 17, with its sustainable flagship products, Wanhua Chemical attended Chinaplas 2023. With the theme of "Plastics Shape a Boundless Future", we focus on presenting its innovative low carbon materials applied for diversified fields. At the exhibition, we focused on showing integrated material solutions capability.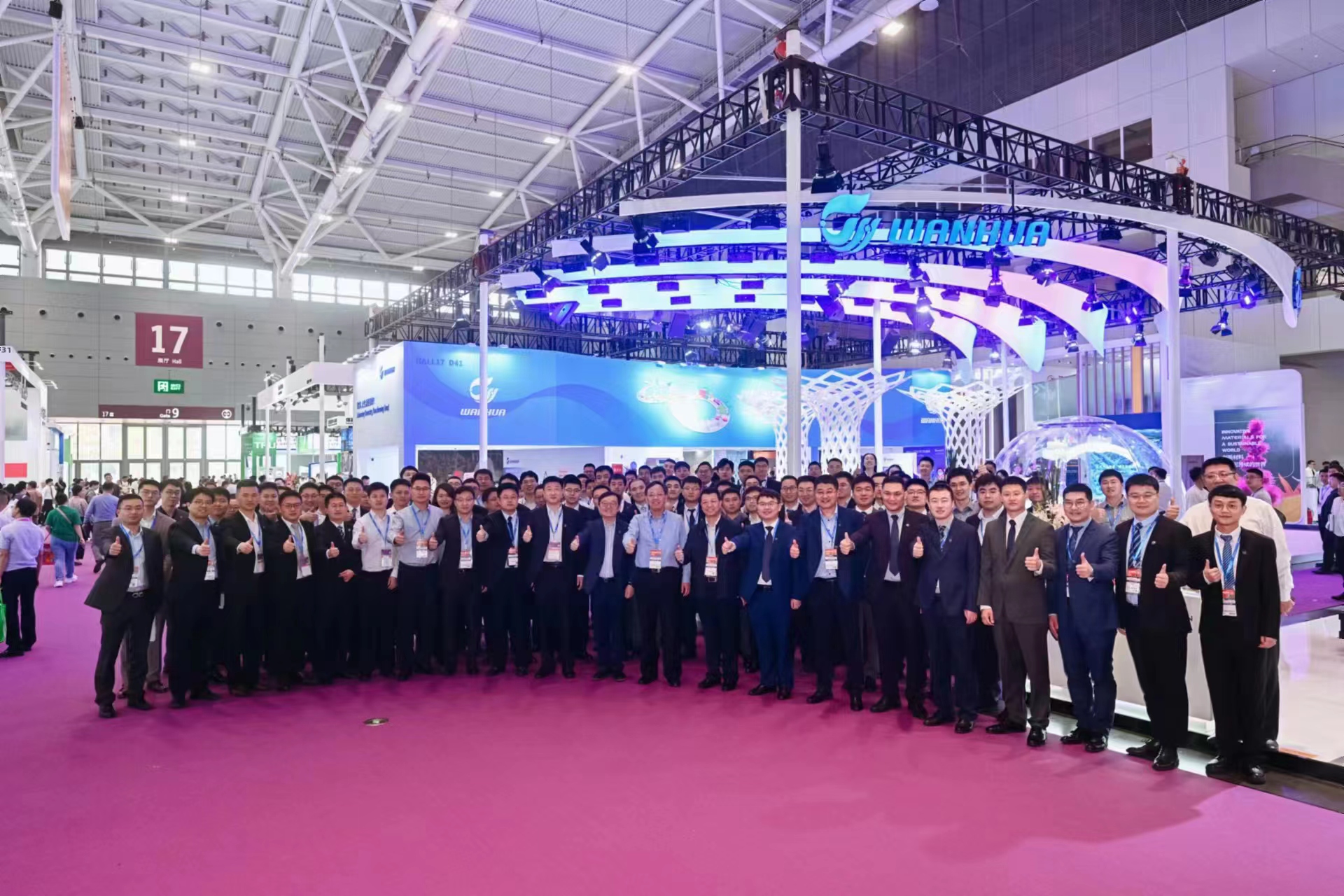 Plastics circulation
By adopting physical recovery method, we recycled waste PC, PP, TPU etc., and re-granulate them after treatment. The regenerated material has been certified by GRS and UL2809. With a series of recycling solutions such as polyurethane foam recycling, waste PP/PE recycling, and waste PC/PMMA recycling, we are able to help customers reduce the carbon footprint of products, and hope to promote circular economy.
Healthy life
In the field of sports and leisure, by experiencing the "spacewalk" demo machine, visitors could directly experience different kinds of foam. Our PMMA, PC, PP and PVC series are ideal for providing the comfort and beauty for household with their excellent performance and reduced carbon emissions. In addition, we launched medical-grade TPU, PC, PU and some other material solutions, in order to promote the upgrading of medical industry.
Energy efficiency
In the automotive sector, a series of high performance aliphatic TPU products offered by Wanhua for paint protective film are outstanding in terms of scratch resistance, ultraviolet resistance, humidity-heat aging resistance, scratch self-repairing and other properties, all of the above features enable a long-lasting film appearance. On the other hand, the nylon 12 solution, with its lightweight and other characters, is opening the door for auto parts like fluid pipes or battery busbars to save energy and reduce carbon emissions.
Information communication
To meet the customization needs of the 3C industry, we have a variety of integrated solutions, especially PC and PMMA. With their excellent optical and mechanical properties, they are ideal for the fast-growing 5G applications.
Biodegradable materials
Our PLA, PBAT and other biodegradable materials, are widely used in express packaging, consumer goods and agricultural production, etc., so as to better help customers to reduce their carbon footprint.
CMF trend
Integrating material knowhow and aesthetic design, We are well prepared to provide customized material solutions and color trend catchings for diversified fields, and hope to meet the artistic and emotional needs of end consumers, thus, perform a balance between sense and sensibility.
Welcome to visit the Wanhua Chemical booth and communicate with us at F41, Hall 17, Shenzhen World Exhibition & Convention Center from April 17 to 20.