On April 3rd, Wanhua Chemical Group Co., Ltd. and KUKA Home Furnishing Co., Ltd. jointly established the Innovation Laboratory in Hangzhou. On the same day, Wanhua Chemical was invited to attend KUKA Home's 2022 Supplier Conference and won the Strategic Cooperation Supplier Award.
We focus on chemical materials and the new trend of the household industry. Over the years, we have provided KUKA Home with healthy, comfortable, and environmentally-friendly home furnishing raw material solutions by continuously innovating products, perfecting technical services, and ensuring stable supply. The cooperation will rely on our respective advantages to deepen the partnership, and aim to jointly build an industrial chain collaborative innovation ecosystem.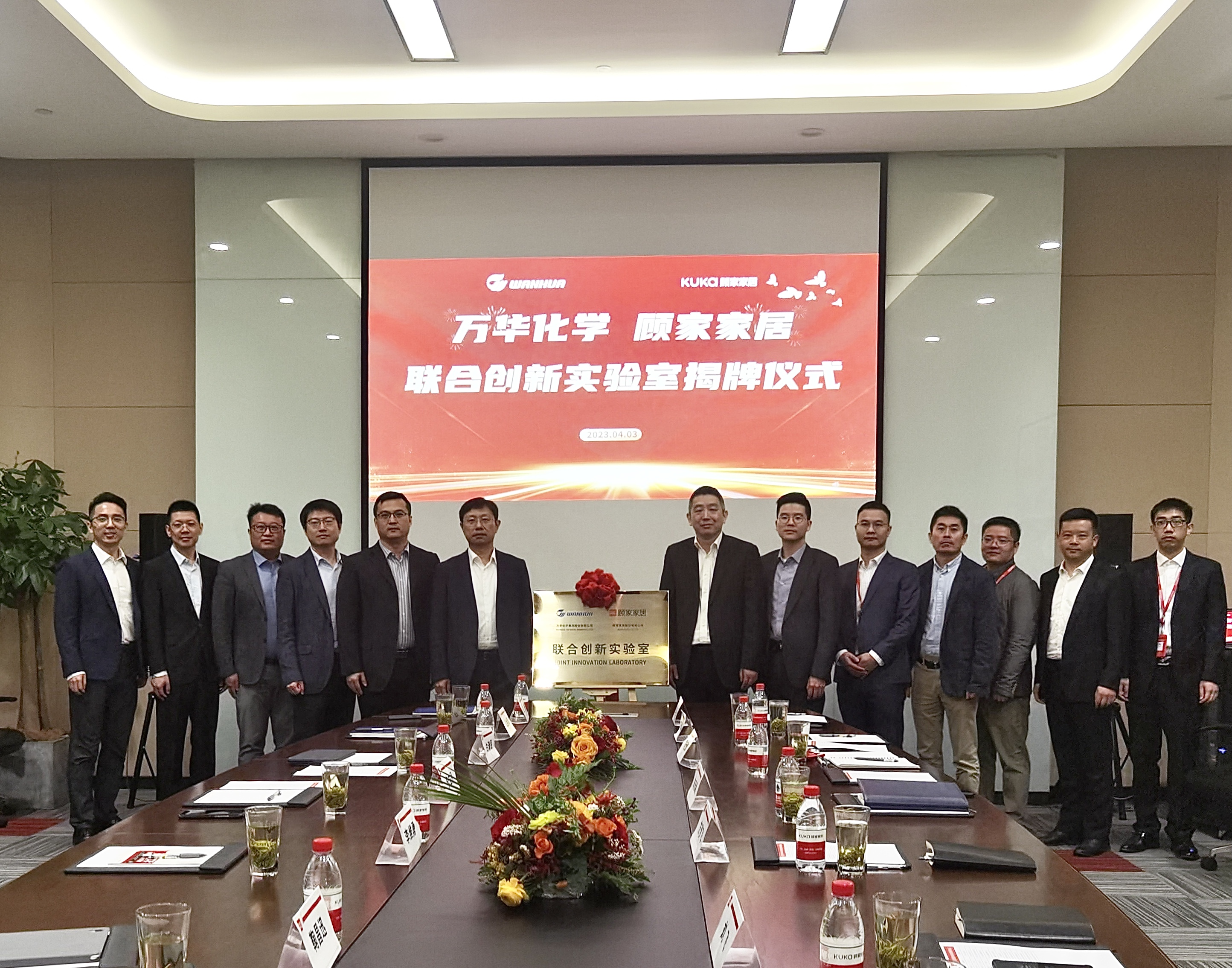 Industry-Leading TDI Helps Upgrade the Quality of the Upholstery Home Furnishing Industry
In pursuit of sponge products with a more delicate foam structure and smoother handfeel, our high-purity TDI provides a better choice for these applications. Through the independent development of TDI product refining technology, we have effectively removed solvents, light and heavy components, and trace impurities, greatly improving the quality of TDI products. The product purity has been improved and stabilized at 99.98%, reaching the leading level in the industry. This high quality TDI product has better reaction efficiency with molecules containing active hydrogen compounds, fine sponge foam pores, and significantly improves user comfort. At the same time, the improvement of reaction efficiency helps downstream customers improve production efficiency, reduce catalyst usage, and ultimately reduce costs and improve efficiency, leading to industrial upgrading.
The Flexible PU Foam to Create a Number of Environmental Protection Technologies
Through self-developed production processes and catalytic technology, we not only improve the performance of flexible PU foam in terms of product fluidity and oxidation resistance but also make the foam structure more regular and more resistant to yellowing. At the same time, the product has a high reaction conversion rate, few side reactions, extremely low aldehyde content, with the total aldehyde being less than 10ppm, and the foam odor reaching a 3.0 level, which protects the home life of consumers.
The industry's preferred bio-based polyether writes a green and low-carbon hymn for consumer products
Our bio-based polyether products are sourced from castor oil with more than 50% bio-based content, which can reduce the carbon footprint by 30-50% compared with conventional petroleum-based products. Bio-based products made from this material have passed USDA green organic certification and become the first choice for low-carbon consumption and environmentally friendly living. At the same time, the product has low odor and low VOC characteristics, less odor than other plant-based polyether, which can meet the needs of high-end furniture users and bring a more healthy and environmentally friendly experience for end customers. Not only the outstanding environmental performance, but also its excellent compression resistance, foam structure and other product properties bring better user experience. What's more, the higher processing tolerance allows more downstream users to meet the environmental requirements of high-end products in the industry without adjusting the production formula.
In the future, Wanhua Chemical will continue to work together with KUKA Home to implement the corporate mission of "Advancing Chemistry, Transforming Lives" around green and low-carbon raw materials, foam recycling technology and high-performance differentiated products, and use the power of chemistry to guard the healthy life for human-beings.